Smart Point of Sale Systems
Get going and begin making your first deals in merely minutes with our instinctive point of sale

Waiter management
Manage orders, pick- ups, billing, order histories with a separate application provided to the waiters

Cash drawer management
Know where every dollar and cent goes, from sales to pay-outs, as well as refunds, returns and exchanges.
Sales management
Deal with every single completed order progressively and perform discounts, exchanges and returns
Customer Management
Know your client with CRM improved with groups, loyalty and keen bits of knowledge

Accept any Tender
Take cash credit/debit card, Foloosi pay while keeping EMV PCI grievance

Reports Management
Report on sales per month/ per week and orders per month/ per week can be extracted
Perfect for any business
Regardless of whether you claim a bistro, restaurant or retail store, Foloosi will give you all that you need.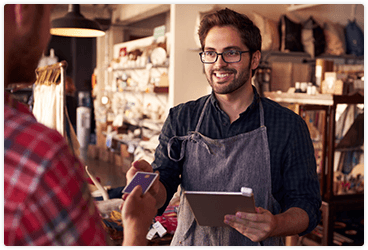 Cafe / QSR
Get fully operational rapidly, and start checking your clients out in merely minutes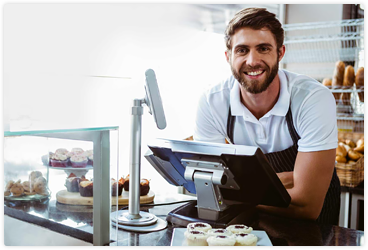 Restaurant
Deal with your café with ease, from the front of the house to the kitchen and bar.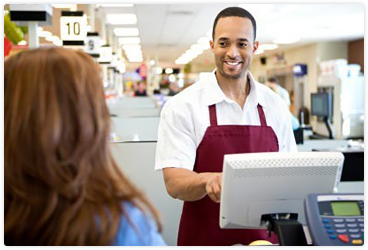 Retail
Keep your stock perfectly stocked and your customers coming back for additional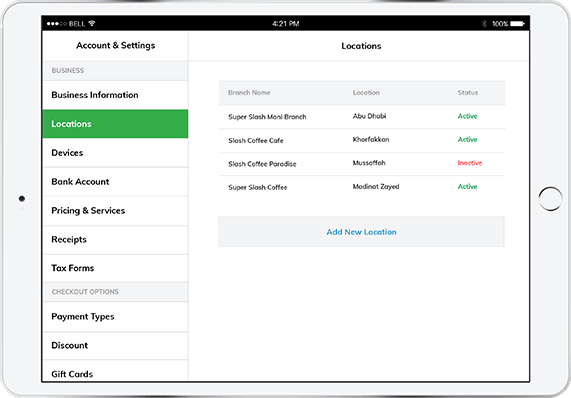 Unlimited Locations
Foloosi makes business easier. Create & manage unlimited locations with just one account
Add and edit your business information, including address, website and hours from wherever you are
We provide own privilege to the owners so that they can maintain their branches and track all the necessary details from their main account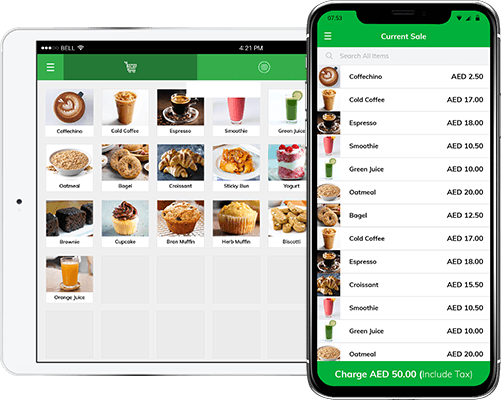 Transform your devices into a point of sale
Foloosi accept all types of payments like cash, credit/ debit card, checks, gift cards, coupons etc
Transform your device like tablet, ipad into a POS and customize your POS with functionalities right for you
No other payment processor, infrastructure, terminal, extra costs are required and track your sales using your device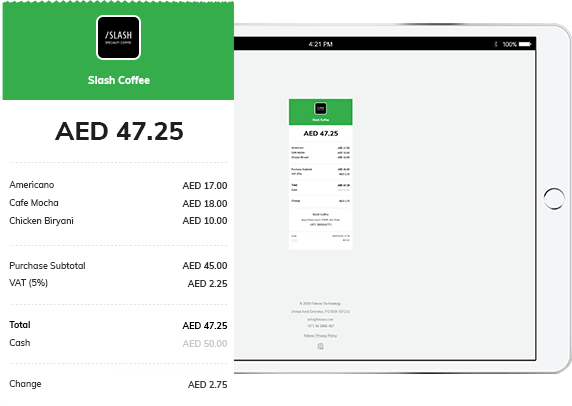 Digital receipt - Go green – Paperless
A total digital transformation using digital receipts and hence no paper is required
POS systems provide with more detailed receipts rather than just a slip of paper with the date / amount of the sale
POS systems use inventory data to provide more information like item description, price, and savings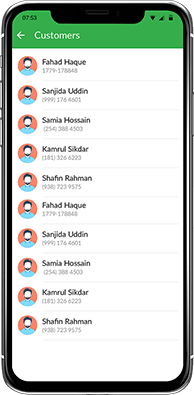 Grow your customer base
Know about your customers, order histories and automatically generate their profiles with contact number
Make your customers to come back with reward programs &let them see exactly what is being processed
Send promotions, marketing campaigns via Email, text, SMS etc and build your customer base effortlessly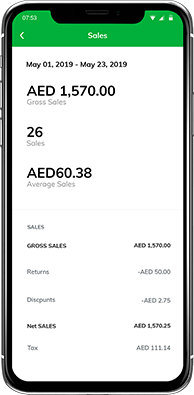 Spend less time in back office
With online dashboard you can see how business is doing and decreased paperwork, admin tasks, billing errors
You can manage customer profiles, employees, locations, send and track invoices without any training
You can also set employee permissions, manage inventory, manage your entire staff and their schedules
Get started with foloosi POS
Join the new way of accepting payment, Fast . Convenient . Secure
Sign up your Business
Pricing
Monthly
Quarterly
Half Yearly
Annually
Small
Upto 1 Branches
AED 99 Setup Fee
Medium
Upto 3 Branches
AED 199 Setup Fee
Large
Upto 10 Branches
AED 299 Setup Fee
Free Tablet
See what our partners have to say
Foloosi has all the hardware and make payments quick
Promising technological innovation
'Foloosi has made the sales process faster and increasingly productive, keeping our clients' holding up time insignificant and enabling our staff to take care of the following client speedier.'

Infinite Global Solutions
Director